"God, I thank you for waking me up this morning and that you have started me on my way. I thank you for allowing me to do all the things that I have done today. I ask that you forgive me of my sins. I also ask that you allow me to have sweet dreams and not bad dreams..In all these things I ask in your darling son Jesus name, I pray, Amen."
Praying is a way that we can talk to God. The only time that I would pray would be at night or when praying was called for in a certain situation or obligation. At 20 years old, I am now learning how to pray to God just to talk to him. I never really would talk to God simply because I did not know what to say. If I was volunteered to pray I would sometime opt out because my mind would go blank and I'd have nothing to say.
But in my walk with God, I am growing everyday. For an example, I wasn't completely sure that I wanted to blogging anymore. i didn't know where I wanted to take my website and I didn't have any ideas on what to write about. I had the urge to jot some things down and pray on them. So as I began to pray on those things I started to pray on a lot of things that were on my heart. I started going and going and I felt tears began to form as I spoke out loud to God. I relayed to God everything that was on my heart; my desires, my worries, everything. By the end of the prayer, I had four blog posts jotted down for my website. The ideas just started to flow right after the other as I started to write an idea down.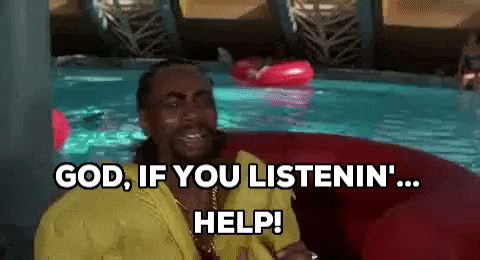 That was the second time I truly just laid it all out in front of God. Praying and talking to God felt so good. Praying to God allows you to pour out your heart. He's always listening and giving a lending ear. When you talk to God and pour your heart out he has your back. By me only talking to God when there is an obligation, I allowed myself to think that God didn't care about me or he didn't care what was happening in my life.
God does care and he already knows what you are going through but he wants us to talk to him and have a relationship with him.